AviClear for Acne
Are you struggling with acne and feeling discouraged? Have you experimented with Accutane or wish to steer clear of traditional medications? You need not scour for local acne treatments because The MedSpa at Burlington Plastic Surgery is thrilled to introduce AviClear, the sole FDA-approved laser therapy catering to all types of acne ranging from mild to severe. As an inaugural collaborator with Cutera, we are among the limited centers in the vicinity providing this potent method that effectively removes your bothersome acne while guaranteeing long-lasting outcomes without any significant recovery period!
Basic Description:
Pharmaceutical, medication and chemical free 1726 nanometer wavelength laser to target acne at the source of acne – the sebaceous gland, safely and effectively, long-lasting results and suitable for all skin types.
Treatment Length:
Three 30-minute treatment sessions 4-6 weeks (about 1 and a half months) apart.
Acne Treatment with AviClear in Burlington, Ontario
AviClear is an innovative acne treatment that does not require medication. Its groundbreaking 1726 nm wavelength laser ensures the safety of all skin types, and it has been approved by Health Canada as the sole energy device for effectively treating moderate to severe acne. This exceptional solution specifically aims at sebaceous glands impacted by cystic, inflammatory, and hormonal acne.
The combination of sebum and dead skin cells that clogs your pores is the root cause of acne. AviClear focuses on suppressing, down-regulating and targeting these sebaceous glands to reduce oil production resulting in improved active acne condition which lasts long without medication usage.
AviClear offers a permanent solution that doesn't come with any negative repercussions in just three treatment sessions. Schedule an appointment today and discover whether AviClear is the ideal option for you.
Frequently Asked Questions
Is AviClear Safe?
AviClear stands out from conventional acne treatments as it doesn't cause any detrimental side effects, nor does it contain hazardous chemicals or toxins. Moreover, this solution is gentle on all skin types and shades. While minor symptoms like redness, inflammation and flareups may arise after using the product, they disappear promptly.
What Can You Expect from Treatment?
AviClear comes with advanced AviCool technology that keeps the skin cool and relaxed throughout the treatment, ensuring a comfortable experience. Although you may feel a slight snapping sensation, patients in clinical trials reported being able to tolerate it well without any pain relief or interruption of their treatment sessions.
Is the treatment comfortable?
AviClear comes with AviCool™ sapphire skin cooling and sensory controls that are unique to it. These features regulate the temperature of your skin while you undergo treatment, making sure that you have a comfortable experience throughout.
What you should do before treatment?
Cease the application of active skincare elements such as retinol, vitamin C and steroid topical creams for 3 to 5 days prior to a treatment session. Once your therapy is done, wait five days before resuming your usual skincare regimen.
What you should do after treatment?
In the initial 72 hours post-treatment, implement a mild skincare routine and shield your skin from sun rays by applying appropriate SPF. For five days following the therapy, abstain from utilizing active ingredients in your skincare products like retinol, vitamin C or topical creams containing steroids. To identify ideal sunscreen alternatives for you, consult with your medical practitioner.
How soon will you see the results?
 After the final treatment, patients experience best outcomes within a span of 4-12 weeks (approximately three months). The clinical experiments revealed that about 80% of individuals witnessed substantial improvement in their acne during this time duration.
How long will the results last?
At the 6-month mark following AviClear treatment, a significant majority (87%) of patients experienced at least a 50% improvement in their acne. Moreover, there is potential for further enhancement over time as you may continue to observe positive changes even months later.
Are You a Good Candidate?
AviClear is suitable for treating mild to severe acne in both teenagers and adults. An eligibility assessment will help determine if this treatment option is right for you.
AviClear: A long-lasting, safe and effective treatment for acne in Burlington, Ontario
Acne can persistently bother you, impacting both your physical health and mental state. In cases where traditional remedies fail to yield satisfactory outcomes, AviClear presents itself as a viable option for treating acne through laser therapy. This treatment is suitable for most individuals battling with the condition. Get in touch with us now to book your first consultation session.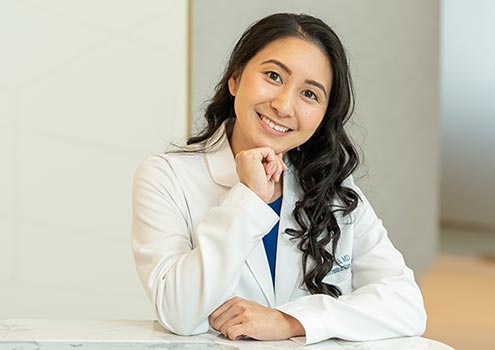 Feel free to contact us at any time
Book an initial consultation with Dr. Shih and start your journey towards beauty, youth, and rejuvenation. It's worth the investment towards boosting your self-esteem.