Chemical Peels in Burlington, Ontario
At Burlington Plastic Surgery's MedSpa, we provide chemical peels to enhance your skin by applying a solution that eliminates its top layers. The result is rejuvenated and refined skin on areas such as the face, neck or hands. Chemical peel treatment can be effective for various conditions including:
Wrinkles and fine lines
Hyperpigmentation
Sun damage
Acne scars
Melasma
Skin redness
Uneven skin tone
Chemical peels come in various types. A light, superficial peel utilizes alpha-hydroxy acids to exfoliate gently and only reaches the outermost skin layer. This option is suitable for managing wrinkles, acne, and dryness. For deeper effects on middle and outer layers of the skin – including treatment of wrinkles, acne scars, or uneven tones – a medium chemical peel with trichloroacetic or glycolic acid can prove highly effective. In contrast, a deep chemical peel fully penetrates through the middle layer by employing phenol or trichloroacetic acid; it may be ideal for treating more severe wrinkle lines and scarring cases. Those seeking to enhance their overall appearance who have mild imperfections make up good candidates for any type of chemical peel procedure. Individuals who have a record of abnormal scarring, heightened skin sensitivity, or possess naturally dark pigmentation are unsuitable for the procedure. Additionally, if you have recently taken Accutane within the past six months, we will advise postponing the chemical peel. During your consultation session with us, our team will evaluate your skin and determine which form of chemical peel is most appropriate for your requirements.
Preparing for a Chemical Peel
In order to get ready for a chemical peel, it is important that you abstain from utilizing retinol-based items at least two days prior. It would be beneficial to make use of glycolic acid lotion as an alternative and avoid any sort of exfoliation, waxing or hair bleaching procedures. In case you opt for medium or deep level chemical peels that require anesthesia, arrange transportation ahead of time since driving may not be safe after the procedure.
Recovering from a Chemical Peel
The healing period for a mild chemical peel generally ranges from four to seven days, whereas the recuperation time for a moderate peel typically falls between five and seven days. In contrast, if you undergo an intense chemical peel, your recovery could last at minimum two weeks.
Medical-grade skincare products are capable of addressing various skin concerns, from acne scars and fine lines to hyperpigmentation and preventive measures. At The MedSpa located in Burlington Plastic Surgery, we can create a personalized skincare plan that caters to your specific needs for optimal results. Don't hesitate to reach out today and discover the available options for achieving healthier-looking skin in Burlington, Ontario!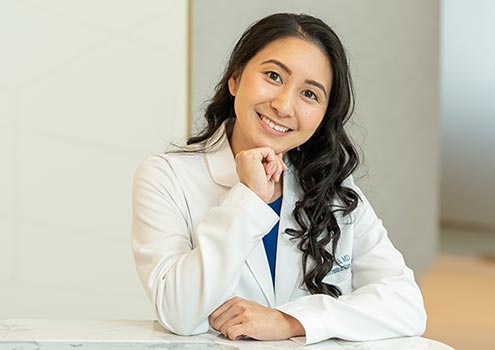 Feel free to contact us at any time
Book an initial consultation with Dr. Shih and start your journey towards beauty, youth, and rejuvenation. It's worth the investment towards boosting your self-esteem.