Liposuction and BodyTite in Burlington, Ontario
Are you interested in eliminating surplus fat from particular body regions, including the tummy, pelvis, and legs? If yes, then liposuction might have caught your attention. Our clinic – The MedSpa at Burlington Plastic Surgery – offers this method of removing and minimizing fatty tissue that can enhance your physical appearance. Dr. Jessica Shih is an expert in reshaping bodies with the SAFE approach that provides a swifter recovery period and more seamless results for natural-looking curves.
Procedure Length:
Variable, approximately 1 – 2 hours
Back to Work:
About 5-7 days for office jobs and non-strenuous activities
Anesthesia:
General Anesthesia for Larger Areas
Local Anesthesia for Smaller Areas
Strenuous Activities:
4 weeks to resume exercise/strenuous activities exercise/strenuous activities
Am I a Good Candidate for This Procedure?
Dr. Jessica Shih employs the advanced SAFE liposuction method at The MedSpa of Burlington Plastic Surgery, surpassing conventional surgical body-contouring procedures by a mile. "SAFE" denotes three stages – Separation, Aspiration and Fat Equalization – that ensure smoother outcomes with minimal injury and quicker recuperation time for an authentic appearance
To begin the fat removal process, Dr. Jessica Shih first administers local anesthesia to numb the specific regions targeted for treatment. Using a probing device that delicately separates and releases fat cells from surrounding tissues and structures, she expertly performs this step without inflicting any harm or damage. Unlike other methods which utilize heat or laser energy to loosen fat cells, Dr. Shih's technique is completely free of such modalities.
Next, a delicate suction method is employed to remove the loosened fat cells. As your undesired adipose tissues have been isolated from their adjacent structures beforehand, Dr. Jessica Shih can easily extract them through aspiration. This facilitates a less distressing procedure with a comparatively soothing recuperation phase.
Dr. Jessica Shih's last phase of the SAFE liposuction process involves pinpointing any lingering subcutaneous fat cells by utilizing a probe that evens out the remaining fatty tissue, resulting in more seamless and organic-looking outcomes. By implementing this ultimate step, Dr. Jessica Shih can effectively manipulate, shape and refine your under-skin fatty deposits to meet desired specifications.
Through the redistribution of fat cells, the process of fat equalization aids in preventing contour irregularities by ensuring smooth transitions. Compared to conventional methods for reducing fats, this approach significantly minimizes the development of bumpy or uneven skin texture.
What Are the Benefits of This Body-Shaping Procedure?
Improves Your Overall Appearance
Provides Predictable, Personalized Results
Superior Results Can Be Achieved with Liposuction Combined with BodyTite
Eliminates Stubborn Pockets of Fat
Offers Permanent, Long-Lasting Results
Frequently Asked Questions
What is Liposuction?
Surgical fat removal through liposuction is a method that enhances your physical shape by getting rid of excess body fat from targeted regions like the abdomen, hips, thighs, buttocks and arms. In case you have areas with obstinate fats that do not decrease despite efforts in diet or exercise regimen, then undergoing surgical intervention for body shaping may be worth considering. After surgery, maintaining healthy living habits can help keep the effects long-lasting.
How can Liposuction Be Enhanced?
Simply performing liposuction does not effectively tighten the skin on its own. However, by incorporating cutting-edge radiofrequency-based skin tightening techniques like BodyTite and Morpheus8 Body, you can optimize your results by enhancing the tightness of your skin after undergoing fat reduction via liposuction.
Can Liposuction be performed under local anesthesia?
Depending on the stubborn fat's location and size, liposuction can be conducted under local anesthesia. Moreover, BodyTite liposuction along with Morpheus8 Body may also be executed using local anesthesia to achieve better results by tightening the skin further. To determine if you're a suitable candidate for undergoing such surgery locally, it is recommended that you consult Dr. Jessica Shih.
What To Expect After Surgical Fat Reduction?
Compared to conventional fat reduction methods, the recuperation and healing phase after SAFE liposuction is typically swifter and more seamless. However, it is strongly recommended that you refrain from engaging in arduous tasks for at least a week. Wearing compression garments post-operation can maximize your outcomes. You may be able to resume work and routine activities roughly seven days following the procedure.
Typically, the effects of your surgery will manifest within a period ranging from one to three months. When surgical means are used to eliminate undesired adipose cells, they cannot return or regenerate. The outcomes are expected to be enduring and sustainable as long as you avoid significant weight gain for maintenance purposes.
Are You a Good Candidate for Surgical Fat Reduction?
Those who struggle with resistant fat in specific areas despite diet and exercise are the best candidates for surgical removal. If lifestyle modifications fail to produce desired results, opting for a low recovery time surgery could be worth considering. Surgery can help you attain your long-desired streamlined physique.
The initial step is to book an appointment with our team to determine if you are a suitable candidate for this procedure. In your first consultation, we will discuss your overall health background and desired cosmetic outcomes. The ideal candidates for surgical fat reduction are those who have
Unwanted fat in specific areas
Good overall health
Realistic expectations
A healthy weight and BMI
Minimal to no excess skin in treatment areas
Your Desired Transformation
With the aid of liposuction, Dr. Jessica Shih can assist you in attaining your desired transformation. The MedSpa at Burlington Plastic Surgery provides secure and validated techniques to help enrich your inherent look and acquire the ideal appearance. If elevating your self-esteem and contentment with how you look is what you desire, our team will suggest the most fitting treatment plans for you. Schedule an appointment today for a consultation with Dr. Shih's services!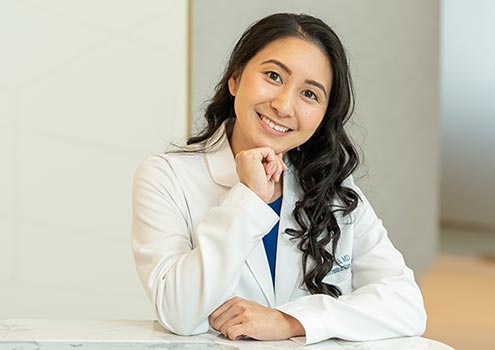 Feel free to contact us at any time
Book an initial consultation with Dr. Shih and start your journey towards beauty, youth, and rejuvenation. It's worth the investment towards boosting your self-esteem.