Monsplasty in Burlington
A monsplasty is a cosmetic surgery that aims to enhance the appearance of the pubic region by removing excess skin and fat, which can cause protrusion on the pubic bone. It's essentially a way to sculpt this area, similar to how tummy tucks contour abdominal areas. Additionally referred as a "pubic lift," it involves an incision made in this location where tissue will be extracted for reshaping purposes. Liposuction might also come into play if there's too much adipose tissue creating unsightly bulges or unevenness within this part of your body – providing smoother contours and more visually pleasing results overall!
Procedure Length:
Variable Depending on Procedure
Back to Work:
About 2 weeks for office jobs
Variations:
Combination of Breast Surgery, +/- Abdominal Surgery, +/- Vaginal/Labial Rejuvenation
An Initial Consultation
During the first consultation, you can openly discuss your desired appearance with the surgeon. The doctor will assess if monsplasty is suitable for you and explain its benefits. It's crucial to convey your preferences accurately so that the surgeon can recommend an appropriate procedure. Before your surgery, the surgeon will give you comprehensive preoperative guidelines, address any concerns or queries you may have, collect an in-depth medical background and conduct a physical examination to assess whether you are suitable for the procedure.
Stop smoking before undergoing surgery to promote better healing.
Avoid taking aspirin, certain anti-inflammatory drugs, and some herbal medications that can cause increased bleeding.
Hydrate before and after surgery for safe recovery.
Frequently Asked Questions
What are The Benefits of Monsplasty?
Reduce the size and protrusion of your mons pubis.
Improve the contour of your upper pubic area with minimal scars.
Feel more confident wearing clothing, such as bikini bottoms, panties, and tight workout pants.
Increase your sexual satisfaction.
Improve your self-image and self-confidence.
Who Is This Procedure Right for?
You must maintain overall good physical condition. If you intend to conceive, it might be fitting to delay your operation since pregnancy can cause skin stretching that may affect the outcome of the procedure.
What Kind of Recovery Can I Expect?
Once you've undergone this procedure, anticipate a few days of rest and recuperation. Although the recovery time is typically one to two weeks, it's crucial that you follow the physical activity limitations for up to six weeks after surgery in order to guarantee proper healing.
What Kind of Results Can I Expect?
Following your monsplasty surgery, you can enjoy a pubic region that is firmer and lifted. Your outcomes are permanent provided you refrain from gaining weight or planning on conceiving after the operation. The aftermath of further pregnancies may transform your results. Sustaining a healthy diet, regular exercise regimen, and leading an overall healthy lifestyle will enable you to appreciate the long-lasting benefits of this procedure.
Tightened and Smooth
Your mons pubis is subject to alteration due to various factors such as time, weight fluctuations, pregnancy and injury. If you desire a reduction in the size of tissue or tightening of skin for an enlarged or sagging area above your vagina, opting for Monsplasty could be ideal. To enhance self-confidence by resolving these concerns, schedule a consultation at The MedSpa located in Burlington Plastic Surgery who will customize a treatment plan according to your individual requirements. Book an initial consultation with Dr. Shih right away and initiate the journey towards rejuvenation!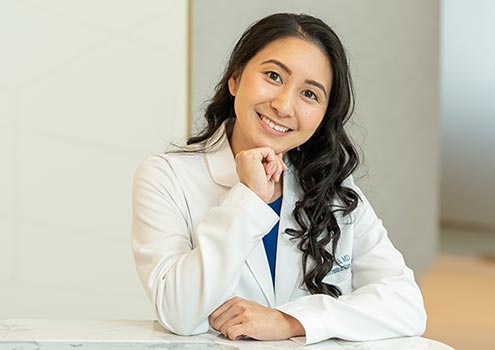 Feel free to contact us at any time
Book an initial consultation with Dr. Shih and start your journey towards beauty, youth, and rejuvenation. It's worth the investment towards boosting your self-esteem.