Breast Lift in Burlington
Mastopexy, commonly known as a breast lift, is an in-demand cosmetic surgery that caters to aging issues by resizing and reshaping. This surgical treatment has been practiced for many years now and proven beneficial for women dealing with sagging or droopy breasts due to skin elasticity problems caused by factors such as childbirth, gravity, and time. Breast lifts help restore youthful contours of the chest area while boosting patients' self-confidence levels. Dr. Shih at The MedSpa at Burlington Plastic Surgery provides this top-notch procedure exclusively to suitable candidates who are curious about its functionality and outcomes- read on!
Procedure Length:
Approximately 1.5 – 2 hours
Back to Work:
About 1-2 weeks for office jobs and non-strenuous activities
Strenuous Activities:
4 weeks to resume exercise/strenuous activities
Mastopexy with Auto-Augmentation
Strenuous Activities:
Incisions: Vertical "Lollipop" Incision, Wise-Pattern "Anchor" Incision
What Is a Breast Lift?
Mastopexy enhances the contour and placement of breasts by eliminating superfluous skin, reforming tissue, and reviving fullness. The procedure is commonly sought after by women in their 40s, 50s or 60s as aging reduces collagen, elastin and hyaluronic acid production causing drooping; nevertheless it's not unusual for moms to choose this surgery in their 30s because of typical post-pregnancy impacts like loss of breast volume and sagging.
Frequently Asked Questions
What are the Types of Breast Lift
Mastopexy
Mastopexy with Auto-Augmentation
Mastopexy-Augmentation
Mastopexy with Modest Reduction
How can I Decide on the Best Option for Me?
Dr. Shih will assess your breasts' shape, volume, and degree of ptosis to determine the most suitable course of action for you. If you possess sufficient volume and aim to enhance the position and contour of your breasts, a Mastopexy either alone or combined with modest reduction could be an excellent option. By relocating your existing breast tissue through a Mastopexy with Auto-Augmentation procedure, it offers to lift effects that re-sculpture your bosom by allocating volumes appropriately across all regions. Opting for Mastopexy-Augmentation may prove best if boosting implant sizes while simultaneously uplifting is what appeals to you.
How does the Procedure Work?
The technique functions by tautening and elevating flaccid skin, thereby enhancing the overall aesthetic of the breasts. The bosoms are elevated and given a new shape while also re-positioning their nipples to the breast's center.
Your incisions' precise location depends on your individual aesthetic objectives and current physical appearance. On occasion, we only need to create incisions surrounding the areola. In other scenarios, extra skin may necessitate vertical incisions that extend from the areola down towards the breast's crease – also known as a "lollipop" cut. For grade II or III ptosis, a third horizontal inframammary fold or crease of the breast "anchor" wound might be necessary for conjunction with the "lollipop."
Who is the Right Candidate?
If you have experienced a reduction in breast size following childbirth or significant weight loss, it is possible that there may be an excess of loose skin resulting in the loss of half a cup size or more. In such cases, many individuals opt for breast augmentation surgery; however, if your breasts are excessively voluminous and heavy, removing some amount of breast tissue could also be considered. Ultimately, this decision should depend on your personal objectives. If you aim to enhance your current breast size, it is often recommended to undergo these surgeries simultaneously with the lift as they all involve similar incisions.
What happens after the procedure?
Your recuperation needs will be thoroughly discussed during an initial assessment and the pre-operative meeting. Additionally, we shall scrutinize your personalized post-surgical directives subsequent to the operation.
When Shall I Expect to Fully Recover?
In general, it takes a few weeks to fully recover and the optimal results may take months to appear. Following the procedure, we recommend modifying activities for at least two weeks before returning to normal levels of output. During the first week of recovery, patients can expect bruising, swelling and overall discomfort which is normal. To aid in their recovery process, patients should avoid lifting or exerting pressure on anything over 10 pounds and refrain from reaching or extending their arms above their heads. As most pain will subside by the second or third week of the recovery period, most individuals are able to resume usual activities during this time frame. At around four to five weeks into the post-procedure phase, topical scar treatments become available as most swelling would have subsided completely by then. After six weeks have passed since undergoing treatment procedures – the majority of cases allow patients clearances for resuming all regular activities without restrictions imposed upon them anymore!
Definitely the Right Shape…
Undergoing a lift procedure can significantly enhance your self-esteem for an extended period. This technique involves the elimination of surplus skin and the tightening of remaining tissues. Usually, lifts are carried out concurrently with breast augmentation or breast lift surgery. Those suffering from drooping breasts will probably be eligible for this treatment and reap its rewards. Dr. Shih will examine your well-being, present appearance, and individual aesthetic aspirations during your preliminary examination to make a conclusive decision. Book an appointment today to arrange your first consultation with Dr. Shih at our clinic!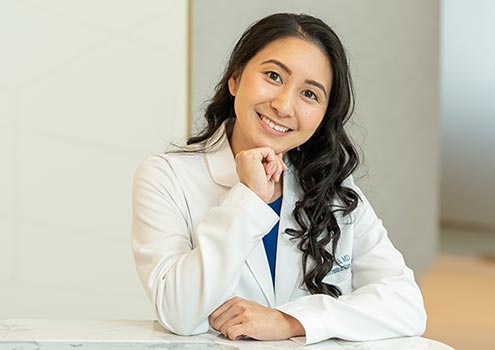 Feel free to contact us at any time
Book an initial consultation with Dr. Shih and start your journey towards beauty, youth, and rejuvenation. It's worth the investment towards boosting your self-esteem.