EvolveX Body Contouring in Burlington, Ontario
As you get older, the natural production of collagen and elastin proteins in your body diminishes. These particular proteins are crucial for maintaining hydrated and toned skin that appears youthful without any sagging. When their production diminishes, there is a corresponding increase in skin laxity.
The MedSpa at Burlington Plastic Surgery presents EvolveX, a technique that can simultaneously tone muscles and reduce fat while tightening skin. To attain a more defined and sculpted physique, there is an alternative to more invasive treatments. With EvolveX at your disposal, you can move closer to achieving your desired appearance.
Basic Description:
Non-invasive, hands-free radiofrequency energy and EMS used for skin tightening, fat reduction and muscle toning
Treatment Length:
Approximately 30-60 minutes per session
Recovery:
Can return to work and non-strenuous activities immediately
Price:
Inquire about our Membership Program
The Three EvolveX Applicator Types
The technique of Evolve Tite involves the utilization of radiofrequency energy that reaches the subdermal layers. Delivering heat at an appropriate temperature promotes collagen and elastin production, resulting in tighter and smoother skin.
Through targeted radiofrequency energy, Evolve Transform effectively targets the layers of skin and fat beneath the surface. This dynamic process not only enhances collagen and elastic production to tighten the skin but also utilizes lipolysis to eliminate excess fat cells. As a result, cellulite can be significantly reduced while providing a toned appearance as unwanted fat is naturally expelled through your lymphatic system.
With the assistance of Evolve Tone, it is possible to tone certain muscle groups that may be unresponsive to diet and exercise. This specific device employs electrical stimulation of muscles (EMS), causing involuntary contractions to enhance the toning process for targeted areas.
| | | |
| --- | --- | --- |
| | CoolSculpting | EvolveX |
| Target Tissue | Fat Reduction | Fat Reduction, Skin Tightening, an Muscle Toning |
| Mechanism | Cryolipolysis (Fat Freezing) | Radiofrequency Energy for Skin Tightening and Fat Reduction; Electrical muscle stimulation (EMS) for Muscle Toning |
| Hands-Free | Completely Hands-Free | Completely Hands-Free |
| Number of Sessions Required | The number of cycles required is based on the size of the area, with each ~35-minute cycle applicator covering approximately the size of your hand (multiple cycles required for one abdomen); Multiple cycles per area may be required | 30–60-minute sessions per area (can target an entire abdomen per session). The number of sessions could depend on the size of the area, amount of fat or skin laxity. |
| Comfort Level | Can have some discomfort | Generally comfortable |
Frequently Asked Questions
What is EvolveX?
The EvolveX treatment is a non-invasive solution that employs radiofrequency and hands-free technology to target skin laxity. Additionally, it enhances the production of elastin and collagen while reducing fat cells in treated areas for full-body contouring. It's ideal for those close to their goal weight but still have problem zones they want tighter-looking skin on. You would need 30-60 minute sessions spaced roughly one week apart over multiple weeks for this treatment, with most starting at around four or six sessions before seeing progress. Furthermore, limited membership options are also available if you're interested in treating more than one area simultaneously!
What are the Areas that Respond Well to EvolveX?
Abdomen

Arms

Thighs

Hips

Waist
Who is the Best Candidate for EvolveX?
Those individuals who are almost at their ideal weight but still have difficulty with pockets of fat or loose skin in specific regions are the most suitable candidates for EvolveX. This technique is excellent for precisely targeting body fat that even rigorous exercise routines cannot eliminate, and it's appropriate for males and females regardless of their skin type. We prefer those who are healthy overall, not expecting a child, and within proximity to their goal weight as our perfect choice.
If you are pregnant or have a body mass index over 30, this may not be the most effective treatment option, as EvolveX is not a weight-loss treatment.
What Is the Procedure Like?
As EvolveX is a non-surgical approach, minimal preparations are needed before your visit. For the treatment of EvolveX, it's recommended that you put on comfortable and loose attire. After we position the device in the designated area, all that's left for you to do is sit back and let the radio frequency work its magic. The entire process usually takes no longer than an hour to complete.
What is Muscle Toning?
Sometimes, despite performing numerous crunches or squats, certain persistent areas on the body cannot be toned. In such cases, EvolveX body sculpting treatments can provide a solution. Evolve Tone is a revolutionary non-invasive method specially developed to amplify muscle power, improving body tone and shape. Its function involves producing electrical impulses that prompt the muscles to contract involuntarily through electrostimulation. The treatment is not only efficient, taking only 30 minutes per session and offering a comfortable experience to its users, but also safe. Since it requires no manual involvement, one can indulge in other activities such as reading magazines, scrolling through social media or even having power naps while benefiting from the service.
What Is the Needed Downtime?
EvolveX allows you to resume your daily routine without any recovery time. It is advisable to consume 4 glasses or more of water on treatment days. 
When can I See the Results?
While some individuals witness instant results after treatment, most require multiple sessions before observing substantial improvements. During your initial consultation, we'll evaluate the targeted areas to provide an estimate of how many additional sessions may be necessary for optimal outcomes.
How can I Maintain the Results?
To uphold the outcomes, it is strongly advised to safeguard your skin from harmful sun rays as they can disintegrate collagen. Additionally, keeping a fit physique is highly recommended. Maintain a healthy diet with physical exercise. 
What is the Difference Between Coolsculpting and EvolveX?
CoolSculpting and EvolveX are two non-invasive, hands-free techniques for tackling stubborn body fat. While CoolSculpting relies solely on the process of cryolipolysis to freeze fat cells, EvolveX employs radiofrequency energy to address skin laxity in addition to electrical muscle stimulation (EMS) that targets muscles based on individual needs and preferences. With personalized treatment options available, you can focus on specific areas of concern during your session with either method.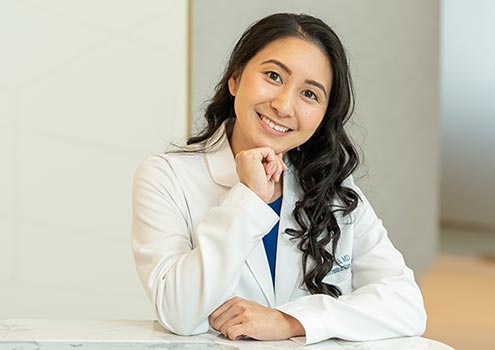 Feel free to contact us at any time
Book an initial consultation with Dr. Shih and start your journey towards beauty, youth, and rejuvenation. It's worth the investment towards boosting your self-esteem.