Fillers in Burlington, Ontario
As we get older, a lot of people struggle with problems like drooping skin, creases and marks on the face, and reduced facial fullness. To address these concerns without major surgery, dermal fillers can be an excellent option. At The MedSpa located at Burlington Plastic Surgery center, you'll find Juvéderm® brand and Restylane® brand products available for use.
If you're keen to preserve your youthful radiance and steer clear of wrinkles or loose skin, dermal fillers such as the Juvéderm® or Revanesse® range may be ideal for you. With minimal invasiveness, recovery time is limited. Get in touch with us now to book a first consultation!
Basic Description:
Wrinkle reduction in the face, including on the forehead, around the eyes, nose and mouth
Dermal Fillers
Ontario, Canada has an abundance of beauty products available; however, numerous creams and ointments prove to be ineffective or provide only temporary results. To truly enhance your appearance and achieve long-lasting wrinkle reduction, it is recommended that you consider investing in a filler treatment.
In modern times, numerous companies manufacture secure and efficient gels that can enhance the fullness of your face for prolonged durations. The visit to the medical facility is swift and effortless, with minimal downtime required post-treatment. Additionally, we employ a substance that exists organically in your body, thus minimizing risks while also reducing the possibility of allergies occurring.
The leading brand for dermal fillers offers a range of treatments, each targeting specific concerns like wrinkles, lip plumping or cheek volumizing. The key component in the filler gel is hyaluronic acid – a natural substance present in several parts of the body including skin, eyes and blood vessels.
As soon as hyaluronic acid is administered to the affected region, it moisturizes and smoothens the tissue for a more youthful appearance. You can expect augmented fullness, reduced creases, and greater bulkiness after undergoing this procedure. The effectiveness of this injectable lasts between six months to two years contingent upon which variant of gel is utilized. At our medical center, we provide all FDA-approved options from Juvéderm® such as Ultra Plus, Voluma, Volift in addition to Volbella so you have plenty of choices available.
Brilliant Distinctions: The Allergan Rewards Program
The loyalty program, Brilliant Distinctions by Allergan, provides an opportunity to earn rewards just by scheduling desired treatments. Juvéderm® fillers and Coolsculpting procedures also contribute towards accumulating points alongside Botox injections.
At Burlington Plastic Surgery's MedSpa in Ontario, we take pride in being a part of the Brilliant Distinctions Rewards Program. Signing up for an account is free and easy, allowing you to accrue points that can be applied towards qualifying treatments at a later date.
A filler of this kind makes use of hyaluronic acid to enhance the skin and diminish wrinkles. Nonetheless, its molecules have a somewhat distinct shape. The consistency of the gel is even with round particles, making it an ideal alternative for those seeking to achieve facial fullness that looks authentic.
Furthermore, the effects of this gel can endure for a significant duration, particularly if you maintain proper skincare practices in between visits. Your practitioner can converse about the distinctive characteristics of diverse formulations and decide which one is best suited for your needs.
Frequently Asked Questions
How Does It Work?
A lot of our products come with lidocaine, which helps in minimizing the pain when injected. After conversing about your treatment objectives and strategy, your provider will cautiously indicate where to inject. Your appointment should wrap up within 20 minutes or less, and as soon as you are done being treated, you can leave the clinic right away.
After your treatment, you will be given detailed instructions on how to care for yourself during the initial few hours. It is advisable that you refrain from engaging in any demanding physical activity within 24 hours of your appointment; however, aside from that, feel free to go back to your usual routine.
How can I Keep the Results Fresh?
To maintain the effects of dermal fillers, consistent upkeep is necessary. However, you can optimize your revitalized look by prioritizing skin health and lifestyle choices outside of treatment sessions. Refraining from tobacco and excessive alcohol consumption, consuming a nutritious diet with ample nutrients, ensuring sufficient sleep and regular exercise are all ways to extend the longevity of your refreshed appearance. Additionally, to amplify complexion benefits, seek advice from your provider on an appropriate skincare regimen.
Who Is This Right for?
Before receiving injectable prescription medications, you must visit the clinic for an evaluation. Luckily, most patients are suitable candidates with only a handful of restrictions. Nevertheless, if you suffer from ailments that delay healing or possess severe heart problems or infections in your treatment area, alternative treatments may be necessary.
How can I Choose the Right Filler?
At Burlington Plastic Surgery in Ontario, we can assist you in picking the appropriate filler that perfectly suits your requirements. The selected product relies on various factors such as the area of treatment, the extent of aesthetic problem and your expected outcome
How Benefitial is the Allergan Rrewards Program?
If you're tight on time and funds, it's crucial to consider the longevity of the filler. Moreover, if cost-effectiveness is a priority for you, ask about Allergan rewards initiative. We can assess eligible injectables and decide whether they match your requirements.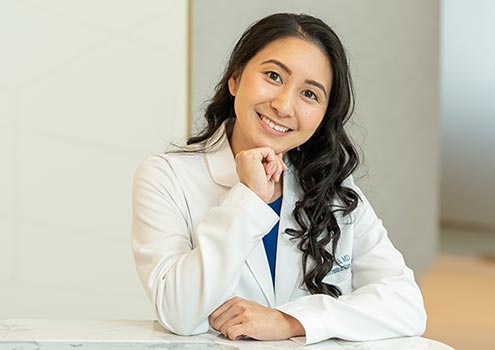 Feel free to contact us at any time
Book an initial consultation with Dr. Shih and start your journey towards beauty, youth, and rejuvenation. It's worth the investment towards boosting your self-esteem.