Hair Removal in Burlington, Ontario
Hair removal, similar to other beauty treatments, is a means of boosting self-esteem. Having excess body hair can negatively impact your confidence in appearance. Fortunately, Dr. Jessica Shih and her skilled team at The MedSpa offer the potent Diolaze XL laser technology for effective hair elimination.
Basic Description:
Laser hair removal using DiolazeXL by Inmode
Price:
Starting at $319/package of 6
Benefits of Diolaze XL
Using this laser treatment has numerous advantages. The speedy and efficient process yields visible outcomes within fifteen minutes. Additionally, it boasts exceptional accuracy that allows the removal of even the tiniest hairs for a silky-smooth outcome. Furthermore, patients experience significantly less discomfort compared to alternative hair removal methods with some reporting only mild sensations or none at all! 
The market offers a range of hair removal methods, but Diolaze XL stands out as the optimal choice. Its impressive speed and effectiveness cater to diverse clientele without any need for post-treatment rest. Patients will feel confident in their new appearance while enjoying freedom from the burdensome task of shaving. To learn more, contact The MedSpa at Burlington Plastic Surgery and book your consultation today!
Frequently Asked Questions
How Does This Treatment Work?
With the approval of the FDA, a laser treatment is utilized to deliver an intense beam of light straight into the hair follicle that leads to its destruction and permanent inability for hair growth. This advanced technology involves using a diode laser with near-infrared wavelength which melanin in the follicle absorbs, thus causing thermal harm resulting in damage beyond repair. There are no bothersome creams or gels needed during this non-prolonged procedure which can be completed within 15 minutes depending on the area(s) being treated.
Where Can This Treatment Be Used?
Numerous body parts such as the chest, arms, legs, underarms, bikini region and stomach can benefit from laser hair removal. 
How Should I Prepare for This Treatment?
Prior to your laser hair removal appointment, it is very important that you shave the area within 24 hours. The laser specifically aims at the hair follicles, therefore, shaving stands as an integral component of your preparation. Other than this crucial step, refrain from sun exposure or injuring the target area and thoroughly cleansing yourself beforehand to eliminate any traces of ointments or oils on your skin surface.
How Many Sessions Are Needed?
The number of sessions necessary varies depending on various aspects such as the treated area's location and size, in addition to one's skin type. Typically, we propose a 6-session package for best outcomes; nonetheless, the required treatment amount depends on the individual. To ensure hair follicles are correctly targeted during their growth cycle stage, treatments' spacing will fluctuate between four to eight weeks (around two months) according to the treated site.
Is There a Recovery Period Required Afterward?
You won't need any downtime after the session, and you can return to your normal activities immediately. But it's best to steer clear of swimming for a couple of days since chlorine in pool water may cause irritation on post-treated skin. We highly discourage exposing yourself directly under the sun as this could lead to skin damage or sunburns. It is vital that patients regularly moisturize their treated area to boost its natural protective function.
How Quickly Will My Results Develop?
After your initial treatment, hair follicles will be eliminated right away resulting in almost immediate outcomes. Nonetheless, numerous treatments are necessary as growth stages of hair follicles differ and need to be addressed at a specific stage during the cycle. Upon completion of the entire treatment package, you may notice a reduction in body hair and smoother skin texture which can boost self-confidence by allowing patients to wear what they desire without worrying about excess hair on their bodies.
Who Is a Good Candidate for This Treatment?
Those who feel dissatisfied or unconfident due to excess body hair may want to consider this treatment, which is appropriate for all skin types and genders. As we acknowledge that unwanted body hair can impact anyone, we will conduct a thorough discussion of your medical background and any skin conditions you have before recommending this effective solution for your worries.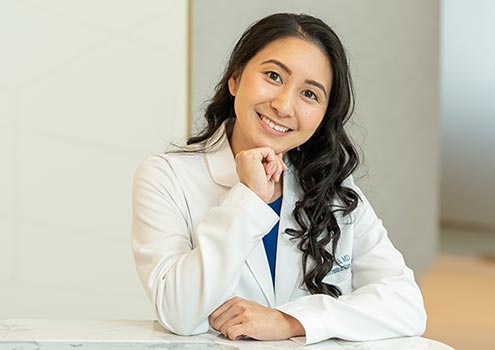 Feel free to contact us at any time
Book an initial consultation with Dr. Shih and start your journey towards beauty, youth, and rejuvenation. It's worth the investment towards boosting your self-esteem.