Hand Rejuvenation in Burlington, Ontario
If you have noticed that your hands show indications of aging, such as age spots, skin looseness, and a loss of volume or fat resulting in an unyouthful appearance, then you don't need to seek out "Hand Rejuvenation near me". Instead, head over to The MedSpa at Burlington Plastic Surgery where we offer various hand rejuvenating treatments aimed at reversing the effects of time on your hands. If you have noticed the effects of aging taking a toll on your hands, worry not as we offer solutions to reverse these signs.  Schedule an appointment with Dr. Shih for an initial consultation today!
Hand Rejuvenation Treatments
The hands are highly noticeable and can serve as a giveaway of aging, yet the skin on them is often disregarded until evident signs of aging manifest. At that point, you might find yourself frantically purchasing all sorts of anti-aging products tailored to hand care; however, it could be too little too late. The harm may have already been inflicted due to factors such as sun damage, lifestyle choices or just the natural course of time – making relying solely on skincare remedies insufficient in restoring youthfulness to your hands.
Great news! Don't lose hope just yet. At The MedSpa at Burlington Plastic Surgery, we have effective solutions to combat the aging process and its effects on hands.
As individuals age, their hands may experience pigmentation resulting in age spots or wrinkles and volume loss with noticeable veins. Whatever your case may be, our team can customize a treatment plan specifically tailored for you to revive youthful-looking hands once again. We provide various hand rejuvenation treatments that include:
The formation of age spots is often caused by lifestyle factors, particularly overexposure to the sun. In case your hands are marked with these blemishes, you might have attempted various potent anti-aging solutions and products without success. At times, removing age spots may call for more intensive treatment such as IPL therapy.
Intense pulsed light (IPL) is a skin treatment that leverages the power of light energy to enhance skin texture and tone, in addition to erasing age spots on hands. In just one session, you can witness remarkable results as IPL stimulates collagen and elastin production for better-looking skin.
As you age, your body's ability to produce collagen slows down. This has an impact on various parts of your body including the face, hands and skin in general. As a result of this decrease in collagen production, wrinkles form along with loss of volume, making one appear older than they actually are.
Forma is a beneficial treatment for tightening the skin, encouraging collagen production and enhancing overall hand aesthetics. By utilizing radiofrequency energy to warm up the skin, this approach provokes a curative response from the body that amplifies both elastin and collagen levels in the treated region.
The method of RF micro-needling utilizes a tool that blends micro-needling and radiofrequency energy to boost collagen growth in the skin's deeper layers, which can counteract noticeable aging signs. Administering this technique on hands enhances the production of elastin and collagen for an improved appearance.
When you undergo this treatment, your healthcare professional will initially administer a substance to numb the skin before utilizing an instrument equipped with small needles to generate channels in the dermis. Simultaneously, radiofrequency energy is transmitted by the device into the skin, prompting your body's natural healing reaction and heightened production of collagen.
AccuTite involves the application of radiofrequency energy and a thin probe beneath the skin's surface to enhance collagen production and tighten delicate areas that have aged. This treatment can be used on hands to diminish wrinkles and improve skin laxity.
In a treatment that lasts about 20 minutes, the probe is gently inserted beneath the skin's surface on your hands while an electrode placed atop the skin delivers energy to enhance their appearance by tightening the tissue. Dr. Shih carefully carries out this process. Although the treatment yields some immediate outcomes, the most effective results are noticeable in 6-12 months after your treatment. The skin-tightening effects of this procedure can persist for several years contingent on how much collagen your body generates following the therapy.
The technique of fat transfer enables you to employ your own natural fatty cells for enhancing the aesthetic appeal of your hands and concealing protruding veins while reinstating plumpness.
Liposuction delicately eliminates a quantity of adipose cells from an area that is causing concern. The extracted lipids are then purified, processed, and reintroduced into the hands as organic filler material – human fat – which yields enduring fullness with a rejuvenated aspect for your palms.
Am I a Candidate?
If you're curious about procedures and treatments that can restore youth to your hands but uncertain if you qualify, our professionals will assess your hands in a face-to-face meeting to determine which of these remedies are suitable for you. These options aim to alleviate and fix the various aging indications on the hands such as:
Visible veins, bony protrusions, and tendons
Skin laxity
General volume loss
Age spots or other forms of hyperpigmentation
Lines and wrinkles
If your hands are not responding to topical solutions, you may require a more potent option such as an in-cinic hand rejuvenation procedure that targets the root of aging and revitalizes your hands by eliminating age spots, boosting collagen production, and replenishing volume and fat. This treatment is capable of restoring youthful radiance to your hands.
After verifying that you are suitable for one or multiple of these treatments, we will create a personalized plan specifically for you.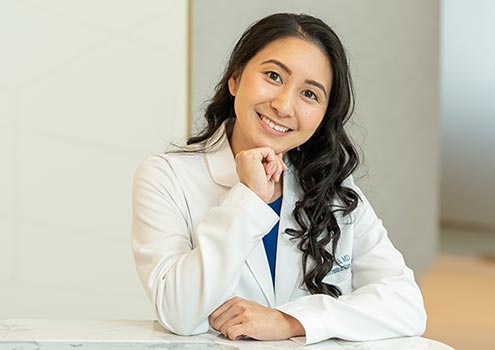 Feel free to contact us at any time
Book an initial consultation with Dr. Shih and start your journey towards beauty, youth, and rejuvenation. It's worth the investment towards boosting your self-esteem.