Morpheus8 RF Micro-needling in Burlington, Ontario
Aesthetic issues due to aging can cause anxiety for both genders. Often, attempts through dieting or using readily available products prove futile against facial and body wrinkles or saggy skin. To attain smoother and firmer skin texture, you might want to contemplate trying Morpheus8 RF micro-needling therapy at The MedSpa in Burlington Plastic Surgery center.
Basic Description:
Microneedling with radiofrequency energy used for skin tightening and evening skin texture
Treatment Length:
Approximately 30 – 45 minutes, depending on size and location
Recovery:
Can resume activities immediately, approximately 24-48 hours (about two days) for redness and swelling, up to 1 week for minor redness
Price:
Starting at $800/treatment, $2000/package of 3
Revive Your Skin
Morpheus8, a cutting-edge skin resurfacing and tightening technique, utilizes radiofrequency (RF) micro-needling technology to revive the skin by harnessing the thermal energy of RF. This innovative treatment induces collagen synthesis by penetrating the upper layers of the epidermis with RF energy and promotes superior cellular turnover for tackling issues related to pigmentation.
A diverse range of cosmetic issues linked to skin texture and pigmentation can be effectively treated with RF micro-needling. Not only is this treatment suitable for use on the face, but it also works well on various body parts. This technique successfully tackles several concerns, such as:
Enlarged pores | Line and wrinkles | Uneven tone | Loose skin | Scars | Stretch marks | Sun damage | Blemishes
Frequently Asked Questions
How Comfortable is This Treatment?
In summary, the distinctive radiofrequency therapy that you will receive typically lasts between 30 minutes and one hour. Due to its customizable heat setting feature, this treatment is highly pleasant as it can be adjusted according to your skin's comfort level. Moreover, a numbing cream applied topically ensures optimal ease during the procedure.
What Can You Expect from Treatment?
During the procedure, your beauty specialist will utilize a portable gadget to employ radiofrequency power to target regions of interest. Simultaneously treating several facial and bodily areas is possible, which can be advantageous for those with intricate aesthetic issues.
What Should You Do Before Treatment?
Prior to undergoing radiofrequency therapy, it is advisable to refrain from using any skin care products that might cause irritation. These may include retinoids, vitamin A derivatives or chemical exfoliants like glycolic acid and salicylic acid. By abstaining from these items for a minimum of three to five days, you can guarantee your skin will be in optimal condition for treatment.
Photosensitivity can be a side effect of radiofrequency therapies, hence it's advisable to restrict sun exposure for at least one week before the scheduled session. This implies refraining from outdoor pursuits, tanning under the sun or using self-tanning agents as well as steering clear of certain drugs like benzoyl peroxide that cause photosensitivity.
What Should You Do After Treatment?
The majority of individuals can resume their regular routines either on the same day or within a day following their session, subject to the body parts receiving therapy. Refrain from applying any cosmetic products on treated areas for at least one whole day and comply with all post-procedural instructions to ensure that your outcomes materialize as planned.
Aftercare instructions may advise refraining from exposing oneself to the sun or engaging in activities that can stimulate melanin production, such as basking under sunlight. Additionally, it is recommended to steer clear of skin irritants like specific skincare items, hot water and steam, and intense perspiration. These aftercare directives usually apply for a period ranging from three to five days before resuming regular activities.
How Many Treatments Will You Need?
To fully address treatment concerns, multiple sessions with the radiofrequency system are typically necessary. Generally, minor issues require one to three appointments while moderate-to-severe concerns may need three to five treatments. Despite its potency, treating various body or facial areas could necessitate additional treatments.
How Soon Will You See the Results?
The outcome of this therapy becomes noticeable within four to six weeks after the initial visit, as collagen is generated in the subcutaneous layers. Adhering strictly to post-treatment guidelines could expedite the results, but those dealing with superficial pigmentation problems may see improvements sooner than individuals treating profound wrinkles or scars.
How Long Will Results Last?
The impact of radiofrequency micro-needling therapy can endure for 12 to 18 months consecutively. To uphold the expected outcome, you may have to schedule an annual meeting every year or two years. The sustainability of your results relies on how long collagen is generated and sustained in your body, along with proficiently shielding against sun damage that could hasten aging skin.
Are You a Good Candidate?
Due to its customizable nature, the majority of individuals are suitable candidates for this treatment as it caters specifically to their skin requirements. Radiofrequency is a non-invasive technique that won't result in any scarring, and micro-needling works harmoniously with your body's innate resources to tighten up loose skin and enhance the overall texture. Your eligibility will be determined during an initial consultation with a professional healthcare provider.
Rejuvenate Your Skin with Morpheus8 in Burlington, Ontario
As one grows older, it's common to become more conscious of the look and feel of their skin on both face and body. If store-bought remedies aren't achieving the desired outcome, trying a procedure such as Morpheus8 may be worthwhile. This RF micro-needling technique is suitable for almost everyone and can target many cosmetic issues that are only skin-deep. Reach out to us now so we can arrange your first appointment with us.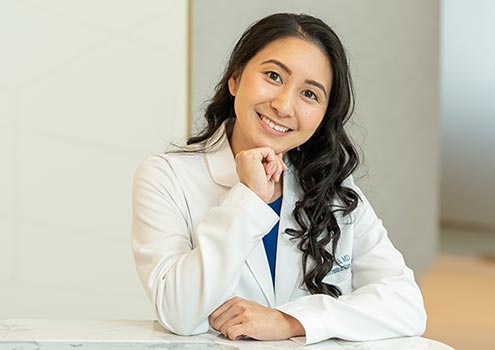 Feel free to contact us at any time
Book an initial consultation with Dr. Shih and start your journey towards beauty, youth, and rejuvenation. It's worth the investment towards boosting your self-esteem.