Mommy Makeover in Burlington, Ontario
Following childbirth, a significant number of women observe transformations in their physiques. These variations could manifest as obstinate pockets of fat, drooping buttocks or breasts, and surplus skin or bulging on the abdominal region. Thankfully, The MedSpa at Burlington Plastic Surgery presents an exclusive mommy makeover experience that incorporates personalized non-invasive therapies along with surgical options such as tummy tuck and body or breast surgery to resolve these concerns effectively.
Procedure Length:
Variable Depending on Procedure
Back to Work:
About 2 weeks for office jobs and non-strenuous activities
Variations:
Combination of Breast Surgery, +/- Abdominal Surgery, +/- Vaginal/Labial Rejuvenation
Strenuous Activities:
4 – 6 weeks to resume exercise/strenuous activities
Mommy Makeover
The term describes a variety of surgical procedures and minimally invasive treatments that are used to address concerns women may have with their bodies after they are done having children. By combining several methods, your plastic surgeon can help you feel restored post-pregnancy. While there are many potential treatments, the ones described here address the most common problem areas women face after childbirth.
As women age or after pregnancy, there are solutions to address vaginal, labial and urinary concerns. Procedures such as Plus90 and Morpheus8 that do not require surgery can encourage the production of collagen and enhance blood circulation in the vaginal wall and labia. These treatments can help alleviate symptoms of genitourinary syndrome of menopause (GSM), like dryness or urinary incontinence. There are also non-invasive methods available that promote core strength while simultaneously improving skin appearance. The EvolveX technology offers a way to tighten muscles, reduce fat, and contour your body shape all at once thus aiding post-partum abdominal laxity issues.
Our Procedures in a Mommy Makeover
Excess skin and fat around the tummy is a commonly encountered aesthetic problem post-pregnancy. Abdominoplasty involves removal of surplus tissue, and reshaping of muscles to attain desired aesthetics. Rectus plication – mending stomach muscle position – often accompanies abdominoplasty after childbirth; it effectively eliminates central bulging in your abdomen while enhancing contour for optimal self-confidence. The MedSpa at Burlington Plastic Surgery offers drainless tummy tucks that enhance comfort during the recovery period following surgery; performing a breast procedure alongside can help achieve the ideal look and feel good about yourself!
As women age or go through post-partum changes, it's common for their breasts to start sagging. Fortunately, a breast lift can restore that youthful perk by repositioning and reshaping both the breasts and nipples. The surgical process involves utilizing various incision patterns based on the size and shape of your natural breasts to achieve optimal results.
During pregnancy, a considerable number of women experience an increase in breast size. However, after the breastfeeding phase is over, breasts may start to droop and lose fullness. If you desire to regain their previous appearance, surgical procedures such as lifting or augmentation can be undertaken either individually or together for optimal results. Your surgeon will assist you in attaining your preferred breast shape and dimension.
Once you make contact with us, we'll schedule an initial meeting where you can express your concerns about specific body parts. Then, we'll educate you on the available options as some clients prefer one procedure while others select multiple ones for full-body rejuvenation. To determine which treatments are most fitting and to create a personalized plan of action, your doctor will assist in decision-making during this consultation session.
Maintaining good physical health is a prerequisite for qualifying for breast augmentation. It should be emphasized that this surgery usually involves the use of general anesthesia, which necessitates healthy heart and lung function. This importance becomes even more pronounced if you intend to undergo additional procedures, such as liposuction in conjunction with breast enhancement.
Here's to all the Mums in Burlington, Ontario
The physical toll of pregnancy can cause stress on a woman's body, resulting in problems like sagging skin, extra fat or urinary incontinence. To overcome these issues and regain your self-confidence, seek advice from the specialists at The MedSpa at Burlington Plastic Surgery who will design a tailored treatment plan to cater to your specific needs. Take the first step by scheduling an initial consultation with Dr. Shih today!
Frequently Asked Questions
Who Is This Procedure Right for?
We provide a range of techniques, most of which are surgical in nature, meaning that they may not be appropriate for all individuals. If you have an intense health issue or your body struggles to recover from harm, it might be necessary for you to consider our more gentle therapies instead.
Women who are uncertain about their childbearing plans ought to delay undergoing a makeover. Getting pregnant after the surgery could interfere with its outcome, leading to additional appointments. Also, certain breast surgeries can hinder breastfeeding post-operation. Hence, it's best to commence treatment only when you have made up your mind not to conceive again.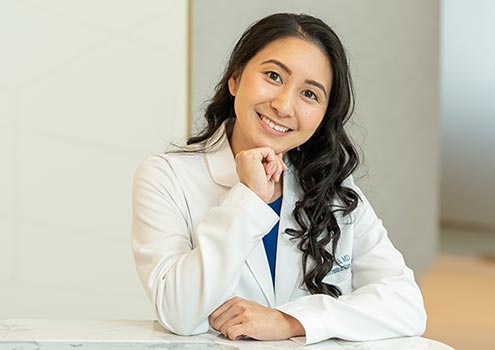 Feel free to contact us at any time
Book an initial consultation with Dr. Shih and start your journey towards beauty, youth, and rejuvenation. It's worth the investment towards boosting your self-esteem.