Best Facelift, Neck lift, And Brow Lift procedures in Burlington, Ontario
The aging process can result in visible indications such as skin laxity, creases, and wrinkles that may reach a point where they cannot be improved with non-invasive or minimally invasive procedures. However, at The MedSpa at Burlington Plastic Surgery, our dual-board certified plastic surgeon provides surgical options to revive your facial appearance and neck area with successful results via facelifts, brow lifts, and neck lifts.
Procedure Length:
Variable, Approximately 3 hours
Back to Work:
About 1-2 weeks for office jobs and non-strenuous activities
Strenuous Activities:
4 weeks to resume social calendar/physical activities
Facial Rejuvenation Procedures: The Facelift, Neck lift, and Brow Lift
The aging process can be unpleasant, particularly when it impacts your physical appearance and how you feel about yourself. Our goal at Burlington Plastic Surgery is to help enhance both your look and self-confidence.
In case anti-aging solutions and serums fail to provide the desired youthful outcome, we can assist in devising a personalized course of action that caters to your needs. Based on how aging has impacted your appearance and what you aspire for aesthetically, you could qualify as an ideal candidate for any combination of procedures like a neck lift, eyelid lift, facelift or brow lift.
The Facelift
A rhytidectomy, or facelift, effectively addresses visible signs of aging by toning muscles, repositioning fat deposits and removing excess skin. The ultimate objective is to revitalize your face and combat symptoms like wrinkles and laxity for a fresher, more youthful appearance.
By using this technique, you can maintain your original look and achieve an authentic outcome without appearing like someone entirely new. 
Given that every individual is unique, a facelift can be tailored to cater to the patient's particular requirements. Furthermore, various techniques may also be incorporated into a single facelift operation in order to address several concerns simultaneously.
The Neck lift
Signs of aging like sagging, drooping skin and visible horizontal lines on the neck are caused by natural factors such as loss of volume and reduced skin elasticity. With a neck lift procedure that tightens both muscle and loose skin around the jawline, you can enjoy a younger-looking appearance in no time.
A lot of individuals opt to include a neck lift in their facelift treatment for the purpose of firming up lax skin and underlying muscles around their neck and jawline.
As you grow older, the lower part of your face may develop jowls and the skin on your neck can become loose resulting in irregular contours. You might also notice muscle banding which could be improved by undergoing this procedure for a more youthful look that restores definition to both jawline and neck.
The Brow Lift
In order to comprehensively tackle signs of aging on the entire face and attain optimal outcomes, numerous patients opt for a brow lift in addition to a facelift procedure. The drooping of eyebrows, as well as skin laxity, lines and wrinkles can be caused by genetic factors, lifestyle choices or aging.
The presence of droopy skin around your brow can cause you to appear older and weigh down your brows. To counter this, a brow lift procedure aims to elevate the position of the brow and tighten the forehead area for a more youthful appearance. A comprehensive facial evaluation will help customize your treatment plan according to specific concerns such as face, neck, eyelids or even brows.
What Makes Our Facelift, Neck lift, And Brow Lift Different from Other Places?
Customizing Your Procedure
To commence the procedure, you must first arrange an initial consultation at our office. During this appointment, you will have a personal interaction with Dr. Jessica Shih, the plastic surgeon, and discuss your desired aesthetic outcome in detail while being informed about all available procedures we offer. Dr. Shih will assess your areas of concern in person to determine which method or mix of techniques can assist you to achieve optimal results.
After inquiring about your medical background and verifying that you meet the eligibility criteria, she will devise a personalized course of action for you and proceed with executing it.
Your Expectations Matter
To be eligible for any of these treatments, it is essential to have practical expectations about the outcome. They do not aim to transform you into a new individual but rather revive your younger-looking features. Although they cannot prevent aging entirely, they aid in combating its effects and produce outcomes that can last ten years or more.
During your initial consultation at The MedSpa at Burlington Plastic Surgery, Dr. Shih is attentive to your desires and will inform you of the expected outcomes for the procedure in question.
Don't let aging take over. There are surgical options that can help you regain control of your looks and feel young again. By investing in these procedures, you'll boost your self-assurance and turn back the hands of time. Get started today by booking a consultation with Dr. Shih!
Frequently Asked Questions
Am I a Candidate for a Face Lift
Individuals who do not smoke and are in a generally healthy state are the ideal candidates for any given medical procedure. Although most individuals seeking facelifts fall between ages 40-70, this surgery is available to patients of all ages.
Although it cannot halt the natural process of aging, this technique can boost your confidence by making you appear younger. It targets the most pronounced and apparent age-related changes in the lower and middle portions of your face to bring back a youthful radiance. To ascertain whether you're eligible for this approach, consult with our skilled board-certified plastic surgeon, Dr. Jessica Shih.
Am I a Candidate for a Neck Lift?
In case your neck and lower face show signs of aging, getting a neck lift alongside face lift can provide you with the desired results. Nevertheless, if you're only interested in enhancing the look of your jawline and neck area, opting for this procedure alone is also possible. Additionally, FaceTite presents a less invasive alternative to revitalize mild indications of aging on the neck.
It should be emphasized that this technique is not intended to transform your overall look drastically. Instead, it aims to rejuvenate your neck's appearance and delay the manifestation of aging indications for as much time as feasible.
What Does Brow Lift Treat?
A forehead lift can remedy and rectify sagging skin on the brow that causes hooded eyes while elevating eyebrows to present a more youthful appearance. It also enhances the look of furrows, which develop between brows as frown lines or creases resulting from pressure when the brow descends onto the nasal bridge.
Am I a Candidate for a Brow Lift?
Continuous raising of eyebrows and the presence of hooded eyelids and wrinkles indicate a potential need for brow lift or eyelid lift. Moreover, if an individual desires to schedule a facelift while simultaneously addressing their upper face concerns, incorporating brow lift in the procedure can efficiently fulfill all cosmetic objectives.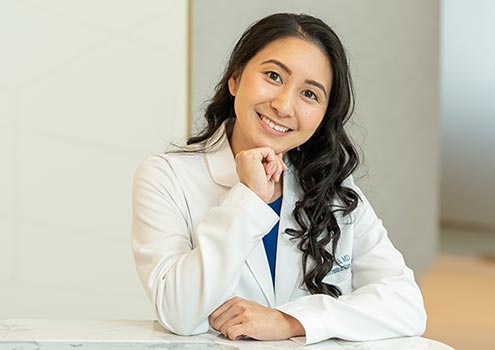 Feel free to contact us at any time
Book an initial consultation with Dr. Shih and start your journey towards beauty, youth, and rejuvenation. It's worth the investment towards boosting your self-esteem.