Skin Tightening in Burlington, Ontario
Are you seeking skin tightening treatments without having to go through surgical procedures? The MedSpa in Burlington Plastic Surgery has just what you need. Our team of professionals will address your concerns and provide tailored treatment options using non-invasive or minimally invasive cosmetic procedures. We take pride in offering advanced technologies such as Forma Plus, Radiofrequency Microneedling with Morpheus8 and Morpheus8 Body, FaceTite, AccuTite, and BodyTite that can help enhance your beauty goals.
Our Skin Tightening Treatments and Procedures in Burlington, Ontario
The MedSpa at Burlington Plastic Surgery provides numerous options for minimizing wrinkles and firming up the skin without any invasive procedures. Utilizing radiofrequency energy, each treatment aims to induce new collagen growth in varying skin depths and underlying tissues. To determine eligibility for these non-operative approaches that can help revitalize your appearance, a comprehensive assessment with Dr. Jessica Shih is necessary.
Forma | Forma Plus | RF Microneedling with Morpheus8 and Morpheus8 Body | FaceTite, AccuTite and BodyTite
Forma in Burlington, Ontario
Forma Plus in Burlington, Ontario
RF Microneedling With Morpheus8 and Morpheus8 Body in Burlington, Ontario
Achieve Long-Lasting Results
FaceTite, AccuTite or BodyTite provide long-lasting advantages for skin tightening that can last for several years. It is an excellent approach to enhance the look and tighten any portion of your body irrespective of its size. Moreover, it may be combined with other treatments based on your preferences and bodily structure to achieve aesthetic goals.
Feel Your Best with Our Skin Tightening Treatments in Burlington, Ontario
Do you wish to enhance the way your skin looks by reducing wrinkles, fine lines and sagging? Our skin-firming therapies are exclusively customized for your individual requirements. The MedSpa at Burlington Plastic Surgery employs cutting-edge technology to produce outstanding results. For an extraordinary treatment outcome along with a pleasing experience, come see us! Book an appointment today with Dr. Shih for your first consultation.
Forma in Burlington, Ontario
Forma is an effective and non-invasive technique for skin tightening that utilizes the power of radiofrequency energy to enhance the look of aging, creased skin. The procedure works by gently heating up your tissues using radiofrequency energy, which encourages collagen production and shrinkage. This treatment produces suppler, more polished skin.
While undergoing the treatment, you may experience mild warmth but there's no need for anesthesia. The entire process usually lasts around half an hour and noticeable improvement in skin tightening can be seen gradually over a span of three to four months.
Forma skin tightening is a popular choice for several compelling reasons. It delivers painless treatment without requiring any downtime and often yields visible results after the initial session. Although other non-invasive options require fewer sessions, we advise undergoing six Forma treatments spaced over one week to achieve optimal outcomes. Furthermore, it's safe for most skin types and can be applied to all parts of the body.
Forma Plus in Burlington, Ontario
Forma Plus employs heat for inducing the production of collagen in the skin's underlying layers. Opting for this therapy is ideal if you desire to tighten extensive regions of your skin while simultaneously enhancing the look of cellulite. Forma Plus, an enhanced rendition of Forma treatment, comprises bipolar technology that facilitates deeper infiltration and more satisfactory outcomes.
The process of administering a Forma Plus skin tightening treatment involves the use of a device that releases radiofrequency energy through its handpiece. This type of energy reaches deep within your tissues, which in turn prompts collagen fibers to shrink and tighten up. Consequently, you end up with smoother and more supple skin that appears tauter than before.
Achieve Superior Skin Tightening Results in Burlington, Ontario
Forma Plus is a safe option for nearly all skin types, and has minimal to no downtime. This makes it perfect for individuals who desire younger-looking skin without undergoing surgery or enduring longer recovery periods. For the best possible outcome, we suggest six treatment sessions or more. Upon completion of this procedure, you will likely observe:
A reduction in wrinkles and lines
An improvement in skin texture and elasticity
An overall more youthful, tighter appearance
Bodytite
Bodytite, just like AccuTite and FaceTite, is a procedure that tightens the skin on your body using radiofrequency energy applied beneath the surface. This treatment can be used to tighten loose skin in various areas of your body such as arms, thighs, waist and abdomen with minimal invasion. The process induces collagen production which results in an overall smoother appearance while enhancing one's physique.
This procedure efficiently tightens sagging skin, enhances the look of cellulite and proves to be useful in tightening skin after fat reduction procedures like liposuction. It's completely safe for all types of skin with minimal downtime as compared to surgery.
This treatment can be used to improve a variety of areas of the body, including:
AccuTite
Similar to FaceTite, AccuTite employs radiofrequency assisted lipolysis for skin tightening. By heating the underlying layers of the skin and melting undesirable fat cells, it stimulates collagen generation leading to more resilient and youthful-looking skin. Targeting petite regions with sagging skin is best done through AccuTite treatment.
AccuTite is highly recommended for treating the following issues:
Nasolabial folds (lines around the mouth)
Female Rejuvenation, including Labia
FaceTite
The non-surgical facelift treatment known as FaceTite utilizes radiofrequency technology to tighten the skin, eliminate unwanted fat and diminish wrinkles. Opting for this procedure provides a great alternative for those seeking tauter and smoother skin without resorting to surgery. The minimally invasive technique has negligible downtime while also minimizing scarring. Its long-lasting effects can be witnessed even years post-treatment with little maintenance required along the way!
If you have a mild to moderate case of skin laxity, then our FaceTite treatment could work for you. Through this procedure, your appearance can undergo visible tightening with the added benefit of reduced wrinkle visibility. However, if your condition is severe when it comes to skin laxity issues, we may suggest alternative solutions such as undergoing facelift surgery.
FaceTite is highly recommended for treating the following issues:
Sagging skin on the lower face and neck
Jowls (excess skin along the jawline)
Double chins/excess skin and fat in the submental area
RF Microneedling With Morpheus8 and Morpheus8 Body in Burlington, Ontario
By employing radiofrequency energy, this cutting-edge fractional technique generates miniature channels within the dermis, causing a dramatic lift in tone and an extensive tightening of your skin. The resulting micro-channels trigger your body's intrinsic healing mechanism, which eradicates the manifestation of any blemishes, creases, marks or other defects.
Our treatment incorporates a distinctive micro-needling gadget that generates small-scale injuries in the skin and transmits radiofrequency energy deep into the skin, resulting in stronger outcomes. These minute injuries will stimulate inherent collagen production, ultimately enhancing and tightening your skin's appearance.
Morpheus8 Body enables skin tightening at a deeper level, particularly in regions like the abdomen, flanks, and knee area. While Morpheus8 can be used with only topical numbing cream for comfort, Morpheus8 Body utilizes microneedles that penetrate up to 7mm (0.28 inches) to release radiofrequency energy which may necessitate local freezing for pain management.
Minimize Your Imperfections and Get Smoother, Tighter Skin
Treating skin conditions caused by aging and damage is easily achieved with RF Microneedling through the use of Morpheus8 and Morpheus8 Body. Radiofrequency energy penetrates deep into the dermis to stimulate collagen production and elastin synthesis, which enhances skin tone, texture, and firmness effectively. The treatment's effectiveness varies for each person but typically requires three sessions to produce optimal results.
Morpheus8 is versatile enough to cater to all skin types, although it works best on individuals with mild-to-moderate wrinkles, laxity or scarring. Additionally, the FDA has cleared this treatment for an array of cosmetic concerns.
FaceTite, AccuTite and BodyTite in Burlington, Ontario
Utilizing radiofrequency technology, FaceTite, AccuTite and BodyTite offer a minimally invasive approach to tightening the skin, reducing wrinkles and eliminating unwanted fat. Rather than relying on large scars or extensive downtime, this treatment yields dramatic results with minimal recovery time after just one session. With sub-dermal application of the energy required for these treatments comes a need for local anesthesia and minor incisions made by a qualified plastic surgeon. Our specialists strongly recommend it as an excellent solution specifically targeting sagging skin around the neck and jawline area.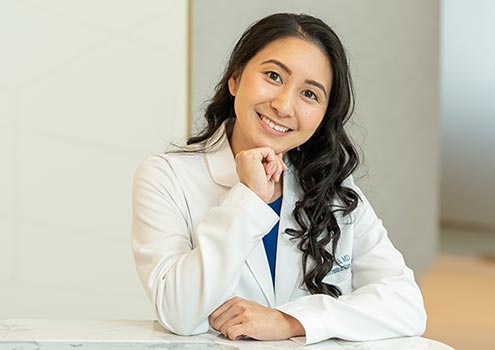 Feel free to contact us at any time
Book an initial consultation with Dr. Shih and start your journey towards beauty, youth, and rejuvenation. It's worth the investment towards boosting your self-esteem.